God's Goal for Everyone
Let me take you back to late spring/early summer. The fields are looking like they do then – not yet in "knee high by July" form. But there's hope, if they continue to get rain and sun and let photosynthesis do its thing. Immature crops right now, sure, but they're on the path to maturity.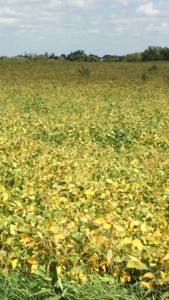 Now look inside my house. We're reading Colossians and 1:28 jumps off the page:
"Him we proclaim, warning everyone and teaching everyone with all wisdom, that we may present everyone mature in Christ" (ESV).
God designed what happens to plants to happen to people as well. Maturity in Christ is God's goal for everyone.
And now, it's Fall. Well, almost. "Harvest season" maybe puts it better. I nabbed a photo of this soybean field (I think? I'm no farmer!) on a bike ride the other day. It reminded me of God's goal for everyone – for us as individual followers of Jesus and as a church called to plant, water, and see His harvest of maturity in our midst!
This week we kicked off our third year of "Wednesday Family Night" at Watertown Evangelical Free Church. Whether you come for the food, stay for the groups, teach kids, or find nourishment for your own soul, let's keep maturity – God's goal for everyone – front and center.
Soybeans don't mature overnight; neither do Christians. Christian maturity is a process. But that's where the first part of Colossians 1:28 comes in. By proclaiming Christ – creatively, relevantly, and faithfully – using warning (beware!), teaching (declare!), and wisdom (with care!) we'll be on the path toward God's goal for everyone.
See you – and your family & friends! – next Wednesday. Come at 5:30 p.m. for the meal, 6:30 p.m. for the groups!